Pubic Forum on Youth Homelessness to be held in Stephenville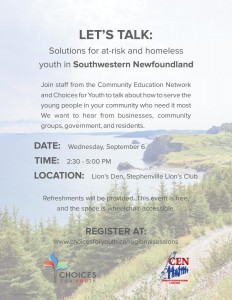 Choices for Youth and Community Education Network Co-hosting Forum to Find Solutions for At-Risk and Homeless Youth in Southwestern Newfoundland
 Local Solutions Needed to Address Local Problems
In partnership with the Community Education Network (CEN), Choices for Youth (CFY), a charity that works with at-risk and homeless youth ages 16-29. will be hosting a forum in Stephenville at 2:30 PM on Wednesday, September 6th at the Lion's Den in the Stephenville Lion's Club. Citizens, businesspeople, government staff, elected officials, and community groups are all invited to attend.
The focus of this forum will be on finding local ideas and solutions for at-risk young people in Southwestern Newfoundland. Currently based in St. John's and serving more than 1200 young people there, Choices for Youth is now working to bring some of its programs elsewhere in the province. These forums will generate ideas for what that work could encompass, and gather feedback for a provincial plan to end youth homelessness in Newfoundland and Labrador.
Taking a strengths-based approach to working with at-risk youth, CFY provides a wide range of services and programming, with a focus on housing, education, employment, family support, and mental and physical wellness. CFY also operates several social enterprises that employ and support at-risk youth.
"We know that many of the young people we serve in St. John's are from communities all over the province," says Joshua Smee, CFY's Provincial Expansion Coordinator, "and we also know that many of these young people would be better served if they could stay closer to home. We're looking forward to meeting people from the area who are interested in working together to help make this happen."
Bernice Hancock, Executive Director of the Community Education Network added "CEN has a long history of working in collaboration with its many partners to meet the needs of young people and we are very pleased to be welcoming Choices for Youth to our region to share their knowledge and experience as we work together to enhance programs and services for youth who are facing difficult life circumstances."
Attendees can expect to hear about CEN's and CFY's work and to brainstorm some creative ideas to help local youth stay housed, employed, and connected. This is a free event, and a meal will be provided. Anyone interested in attending one of the sessions can find more information and register at http://choicesforyouth.ca/regionalsessions.
credit: Choices for Youth