CEN: A Possible Choice for Expansion
Choices for Youth (CFY), a well-known non-profit organization on the Avalon Peninsula which works with at-risk youth and homelessness is expanding. It is their goal to have 6 new sites by 2020. Exactly what those sites will look like is unknown. Presently, a small team, including Josh Smee, Provincial Expansion Director, are making their way across Newfoundland and Labrador meeting with like-minded groups and researching possible partnerships.
One such partnership is the Community Education Network. With the acquisition of the former Youth Assessment Center earlier this spring, a partnership is a viable option. Playing an active leadership role in the Southwestern Housing Stability Initiative (HSI), CEN's next steps in offering affordable and safe housing is renovating the building into 7 bed-sitting units for youth who are in need of supportive housing while making the transition to more independent living. With many wrap-around services offered by CEN, including education, employment, mental health and youth engagement, youth living in this house will be better equipped to succeed in this transition.
During their rece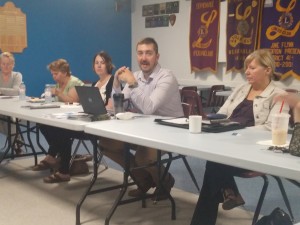 nt visit to Stephenville, CFY partnered with CEN to host several sit-downs with various groups. An AM session with HSI started a dialogue on what resources are available. Leading the session, Josh was glad to have the opportunity to meet with various members of the HSI collaborative.  "It's nice to sit with a group that is already on the ground," he said, adding, "We're here for you to fill our brains with your knowledge."
Linda Warford, Director of Planning and Policy, gave a brief overview of programs and services offered by CFY on the east coast, and how they offer "a continuum of program housing with several units directed at youth needs."
Discussion of trends and challenges in the southwestern region, resulted in geography monopolizing many conversations-from the distance necessary for those living outside the hub communities of Stephenville and Port aux Basques, and the cost associated due to lack of public transportation, to travel to avail of medical, employment and social services. Others discussed were the disinterest of landlords to rent to youth; the lack of affordable housing and single room units; small town mentality of word spreading from landlord to landlord quickly; and stigma regarding mental health and mental illness.
In order for CFY to continue bringing the services and programs youth need, they believe in "continually getting feedback from them(youth) for what they need," says Linda prior to a lunch meeting with several young people.
Enjoying a hot lunch of Pizza Delight, a diverse group of youth spoke freely of their home co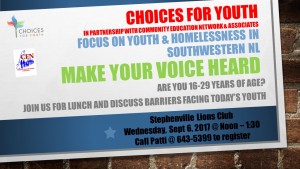 mmunities. While the demographics may have ranged-high school students to university graduates; single moms to common law parents; in-town to peninsula residents; living at home with parents to living on their own-one thing was obvious, they would like for Bay St. George to remain home. For this reason, they'd like to see some changes for improvement including a drop-in center for young people to go for "personal reflection." They voiced concerns regarding lack of services offered to help their friends and peers with addiction issues and the many who struggle with mental health issues.
Information gathered during this and other youth focus groups will be presented in hopes of a provincial youth homelessness strategy.
The general public was invited to join and weigh in on the conversation regarding youth homelessness during an afternoon public forum. Following a brief overview of CFY's programs and services the conversation centered around gaps in services and the risks/barriers facing youth in the area; resources and opportunities that can be presented with the CFY team walking away with a plausible action plan.
While it is not certain if Choices for Youth will expand to the southwestern region, particularly Stephenville, Bernice Hancock, Executive Director with CEN feels that  there is "a natural partnership with CFY."
For more on the youth focus group, check out CBC's coverage at http://www.cbc.ca/player/play/1040756291804. (15:27 mark)