Community Pancake Breakfast: Stack 'em high for homelessness
On Tuesday, February 13, 2018, pancakes could be smelled miles away…that's because there were countless meals of pancakes on the go as it was a fun and favorite Newfoundland tradition of pancake day.
Homes and businesses served them up hot for families, friends and co-workers.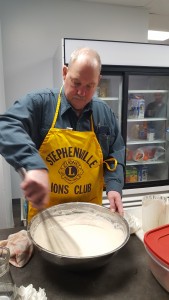 Schools took part in the socializing with teachers preparing and serving students. Some were served plain, had berries, topped with cool whip, regardless how they were served they were surely appreciated.
In Stephenville, the Community Education Network, in partnership with the Stephenville Lions Club and the Southwestern Housing Stability Initiative (HSI), planned and hosted their 8th annual Community Pancake Breakfast to help fight homelessness.
This annual fundraiser offers community members a hot delicious pancake breakfast for a low cost of $6 with all proceeds donated back into the community. Local organizations who deal with homelessness and housing stability daily understand the seriousness of the situation and is grateful for the financial assistance offered from fundraisers such as this.  When one struggles with housing, money isn't bountiful and every dollar that is donated helps with operational costs, purchase of hygiene products, emergency food kits and so much more.
For many who have found themselves in such a predicament, Aunt Jean's Place located on West Street has become a welcomed spot to rest and gather themselves. This year, Aunt Jean's Place received a donation of $800 from the sale of 107 breakfasts, a great number given the extreme cold temperatures and blowing snow conditions outside.
Events like this cannot be successful without many hands into the mix. Folks like:
Michelle Felix, assistant to Member of Parliament, Gudie Hutchings,
Town of Kippens Mayor Debbie Brake-Patten and her assistant
Stephenville Fire Department
Stephenville Lions Club
107 folks who purchased a breakfast
Those donating to the local food bank
Members of HSI
So to ALL who played any role, no matter how small or how big..our grateful thanks to each of you in joining our efforts in fighting homelessness. No one should have to go without a roof over their head, together we are making sure of it!
See you all again next year!
Don't forget to check out our Facebook page for more pics.