Community Cafe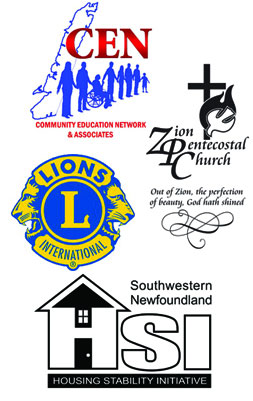 How many times have you gone to the cupboard, just to walk away, mumbling, "There's nothing here to eat."
Or think, "I hate cooking for myself."
For many in our communities this happens too often.
In October 2011, the Southwestern Newfoundland Housing Stability Initiative began offering a free meal per month to those who struggle to make end meet or live alone.
The Community Cafe offers patrons a warm, friendly environment where they can mingle and make new friends or reacquaint with old ones while enjoying a hot, nutritious meal. The cafe provides the opportunity to alleviate some of the social isolation experienced by individuals who would otherwise not have the opportunity to get out and socialize or have a hot meal.
Sustainability of this event continues due to strong partnerships with the Lion's Club, Zion Pentecostal Church and Community Education Network. Local businesses continually support this initiative through monthly sponsorship with item and monetary donations.
Held monthly on the 2nd Thursday at the Stephenville Lion's Den and the 4th Thursday of the month at Zion Pentecostal Church from 11:00-1:00 pm, everyone is invited to come and join the camaraderie of the Community Cafe.
For more information please call Patti at 643-5399.