Season's Greetings from Power Up!
Season's Greetings!
As this holiday season embarks upon us, thoughts of the year past and wonderment of that to come is shared by all. 
It is the wish of Power Up! participants:  Rodrick Benoit,  Dominic Felix, Tania Dyke,  Sharon Young, Gwen Benoit, Bobby White and Program Coordinator, Corinne Tulk…
Whatever is beautiful,
Whatever is meaningful,
Whatever brings you happiness…
May it be yours this Holiday Season and in 2013.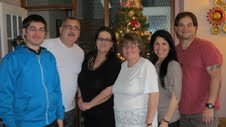 Merry Christmas and a very Happy New Year!