Community Café: The Gift of Giving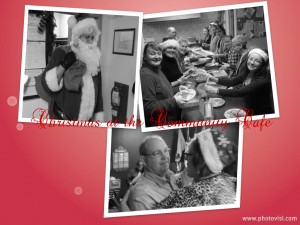 While Jack Frost nipped at noses and old man winter threatened to keep folks inside with bitter winds and a wind-chill of -19C, it did not stop citizens of Stephenville from seeking warmth and comfort at this month's HSI's Community Café.
With Christmas lights twinkling and hearts all aglow, friends came together for song and dance and filled bellies with turkey, ham, salads and more.  For those with a sweet tooth, there was delicious cake and cookies donated by Coleman's Food Store.
Thanks to the generous donation by this month's sponsor, the Town Council of Stephenville, over 181 meals were served.  The Den was abuzz with conversation, laughter and entertainment.  The Café's musical friends, Lloyd and Francie, kept the mood upbeat with traditional holiday songs and toe tapping melodies that had some folks showcasing their dance moves.
Although everyone enjoys getting a present during this holiday season, for the volunteers of the Community Café, it was the giving that touched their hearts.  With laughter abound, smiling faces and sincere gratitude from patrons, how could it get any better?  Why an appearance from Santa of course!  Not a stranger to the cold, Santa made his way around the room, shaking hands and spreading good cheer with a little Snowman Soup for all.
Regardless if the cold wind blew them in, the warm, welcoming atmosphere kept them there.  To those who we have had the honor of getting to know this year, thank you! To those friends we are yet to meet, please join us at our Community Café on the second Thursday of the month at the Lion's Den, and the fourth Thursday of the month at Zion Pentecostal Church.
Special thanks to all volunteers and sponsors, it is you who continue to grow our Café and you who will sustain it.  Our sincerest thanks!
Please note that Zion will be holding their December café on Thursday, Dec. 19th.