Power Up! A Stepping Stone to Success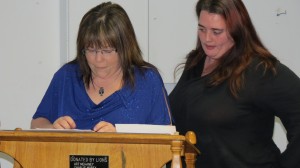 "Power Up! will always be remembered as my stepping stone to the next part of the journey in my life." This was the message conveyed by Brenda Dennis as she spoke at her Power Up! Completion Celebration held on Jan. 29, 2014 at the Lion's Den.  Dennis and three other participants, Darlene Marche, Justin Legge and Toby O'Quinn, were recognized and honored for their efforts and achievements since beginning the career development program in June of last year.
Power Up!, a program sponsored by Community Education Network and funded by the Department of Advanced Education & Skills, offers adults 25 years and upward, who wish to enter or re-enter the work force, a work avenue through which they can build upon and increase their employability skills.
Since its inception in 2008, Power Up! has encouraged and supported the career development pathway of over 45 participants, with hopes to continue in the future.  Through skill training, community service and a six month work placement, participants build skills and confidence necessary for successful attachment to the workforce.
In addition to the participants, tribute awards were presented to supporting employers, Bay St. George Women's Centre, Coleman's-Stephenville Crossing, Canadian Tire and Royal Canadian Legion, for their valuable role in participants' skill development at their work sites.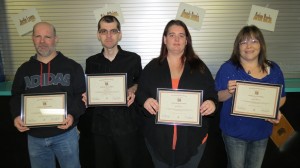 Surrounded by friends, family and employers, Darlene Marche accredited Power Up! for opening her eyes and encouraging her to believe in herself and enabling her to "soar toward {her} future." Both Ms. Marche and Ms. Dennis have been accepted to programs at the College of the North Atlantic in the fall. Ms. Marche left the group with one final, aspiring thought.  "Believe in yourself…you can do anything!"