Transitions to Work! Couldn't have been better!
"This is indeed a momentous day!" triumphantly declared Joannie Coffin, Job Search Coach with Transitions to Work.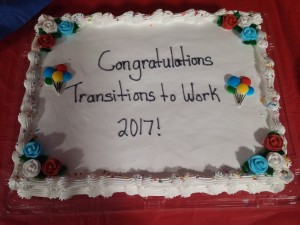 Friends, family, community partners, funding agency representatives and sponsors all gathered at the Stephenville Lions Den on Friday, March 31, 2017 to celebrate the achievements of the participants of this pilot program.
Employment Program Coordinator, Corinne Tulk, emcee for the event, described Transitions to Work as "a partnership initiative of the Department of Advanced Education, Skills, & Labour and the Community Education Network. Aimed at individuals aged 19-45 who were seeking employment readiness skills, this 9 week program embraced individual skill sets while enhancing those necessary to be successful in today's workforce."
January 30, 2017, 16 men and women, anxious and excited embarked on a new adventure. One that would offer challenges and growing pains, confidence and self-esteem boosters, networking and employment opportunities.  Rochelle Kearley, Client Services Manager, with AESL, congratulated the 12 remaining participants on their efforts. "We hope we have equipped you with some of the skills you will need for your employment goals and from what we can see today, your hard work has paid off."
Greetings were brought by John Finn MHA, Stephenville-Port au Port. During his well wishes to each, he spoke of how each have been given a gift that will "aid you on your continued employment journey." He also added, that he hoped it will connect each more to their community.
Community Education Network has had many years experience, successfully, delivering employment programs. Having been chosen by AESL to deliver this pilot program was a compliment, as well as a testament to the heart and dedication this organization has for its community and its people. Bernice Hancock, Executive Director with Community Education Network, thanked AESL for funding the program. "The ongoing partnership is what collaboration is all about."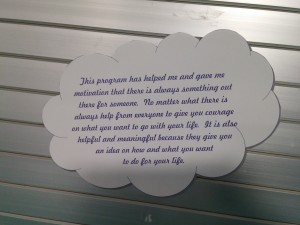 It is humbling as an organization and staff to witness transformations that occur throughout the duration of such programs. Ms. Tulk spoke of how each participant was looking for a positive change in their lives. This celebration highlighted the work and progress each has shown. Guests could read how each participant, personally, was changed and how Transitions to Work affected their lives.
Participant Jennifer Cormier, addressed the audience stating how the program has given her "the skill to find my way." Receiving a thunderous applause, she announced she will begin her new job at the Indian Head Coop the following week. Each participant left the program with an action plan in place with Ms. Cormier being one of several participants who have been given job offers.  Others are exploring post-secondary training and other training opportunities.
Throughout the 9 weeks many were involved in the delivery and management of skill building and information sharing sessions. To these a grateful thank you was extended by many involved in the program.
Special thank you to:
Danielle Jeddore, Program Facilitator
Joannie Coffin, Job Search Coach
AESL management and support staff:
Lana Barrister, Rochelle Kearley, Christina Kendall, Kim DeGroot, Simone Mercer
CEN support staff
Mary Barter, Red Cross First Aid Instructor
Rick Chow, Labour Standards Agency
Lorna Gillam, TLC
Joyce Hancock
Kim Kendell & Vanessa White, Western Health Mental Health & Addictions
Kindale Library
Paul Lawlor, Tim Hortons
Paula Lucas, Coleman's
Carol Anne McKay
Shelley McCarthy, OTT
Heather Mousseau, Canadian Mental Health Association
Valentina Nolan, YMCA
David Rex, Stephenville Lions Club
Bonnie Rotchford, CHANNAL
Ross Ryan, Canadian Armed Forces
Cecil Ryan, AMGWES Safety
Andrew Skanes, local employer
Sharon Williston & Sheila Felix, BSG Status of Women's Council
During her final remarks, Ms. Hancock inspired each participant, as they go forward, to  "Hold on to your dreams and never let them go" and to never forget, how very special they are.
  😀