IYD: #Youth Building Peace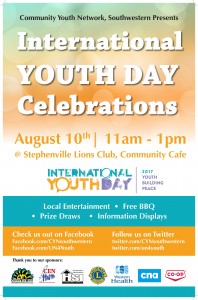 August 12 is International Youth Day!
Since 2013 the Southwestern, NL Community Youth Network ensures a celebration worth remembering! 2017 was no different-Only bigger!
Beginning on Monday, August 7 and ending on Saturday, August 12, this year's theme, Youth Building Peace encompassed a week-long celebration involving many players, of all ages.
During the Stephenville Day festivities, the general public was asked to write random words of kindness on cheery colorful pieces of paper. Some of these messages included: "You are loved!" "You are beautiful!" "You are amazing!" This same invitation was extended to patrons attending the monthly Community Cafe held at the Stephenville Lions Club.
On Thursday, August 10th, 39 young people greeted, served and entertained 151 patrons during lunch fro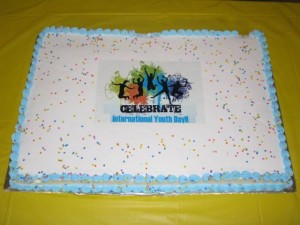 m 11:00 am until 1:00 pm. With a party theme, colorful tables welcomed the patrons as they entered to enjoy a delicious summer meal of barbecue hotdogs, hamburgers salads and desserts. Many thanks to Lion Tony Menchenton for adding a little extra care to the bbq.
During lunch patrons could peruse the dozen or more community display boards and gather information and knowledge regarding a variety of organizations, groups and clubs that make it their mandate to ensure peace and equality. Among those attending were the RCMP, the Stephenville High Humanitarian Club, Kids Help Phone, the BSG Coalition to End Violence and PRIDE Committee.
Regular volunteer extraordinaire, Lloyd Swyers, along with several youth, provided local entertainmen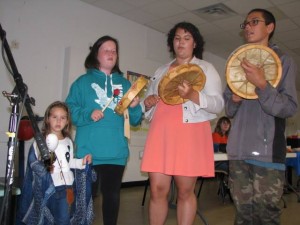 t. This year, four young people from the White Wolf Spirit Children's Drumming Group offered soulful chanting and drumming representative o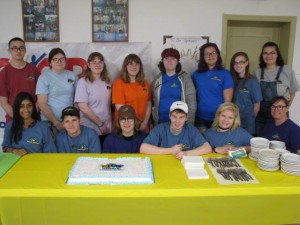 f their indigenous heritage.
Congratulations to all the winners of several prize give-aways, including a basket of school supplies valued at $75.00.
Remember those colorful positive messages written by strangers at the Stephenville Day festivities, well, on Saturday, August 12 (International Youth Day) 9 young people got in on the sharing feeling and gathered outside Coleman's Food Center on Main Street to distribute those messages to strangers….yup! Strangers who have never met, and won't, had the opportunity to brighten someone's day and lift their spirits.
CYN Youth Engagement Coordinator, Vanessa Lee said, when it comes to building peace, "what better way to spread peace, then by spreading happiness." She recounted one instance where a senior lady was offered this colorful message by one of the young ladies present. After opening and reading the message, she teared up and hugged the young woman and thanked her for brightening her bad day.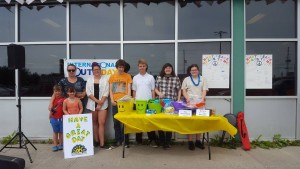 CYN youth members, past and present, offered their musical talents during the two-hour peace spreading session. With close to 200 messages and small dollar store toys given to young and old, you can be sure, that there were many smiles and many spirits lifted, as these thoughtful young people, successfully built peace in this small corner of the world.
Love to see more pictures, no problem…check out Facebook.