Building Safe & Healthy Communities Together!
On November 3, 2018 a large group of 80+ individuals, comprised of youth, parents, funders, partnering organizations, staff and officials, gathered to review the 2017-2018 fiscal year of CEN & Associates.
Highlighting this year's theme, "Building Safe & Healthy Communities Together", Executive Director, Bernice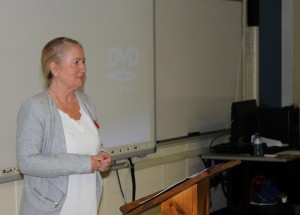 Hancock, spoke of the importance of building safe and supportive communities and how CEN & Associates continue to work with community and government partners to provide safe and caring communities, where everyone feels a sense of belonging, differences are celebrated, and everyone is included, adding that 'magic stuff happens at CEN."
The theme of this year's AGM is "Building Safe and Healthy Communities Together".  The Community Education Network, Community Action Committee and Community Youth Network are committed to working with our many partners to ensure safe and caring communities which support good health and well-being for everyone.  Our vision of life-long learning encompasses people of all ages – from prenatal care for expectant mothers and providing opportunities for early childhood and youth development, to engaging older adults and celebrating the contributions of our seniors. 

 The Annual Report provides highlights of each of our programs and services which includes: the Community Action Committee Early Years Programs; Community Youth Network; Housing Support Services; Career and Employment Programs; Mental Health and Addictions Services; Adult Basic Education; and Violence Prevention.  A Financial Summary for the 2017-2018 fiscal year is provided on the last page of the report.  In total, CEN and Associates manages approximately 1.5 million dollars in funding on an annual basis and employs 30 full and part-time staff throughout the year. 

 As you can see from our Annual Report, this year has been an exciting and busy time for CEN and Associates.  It is my pleasure and privilege to serve as the Executive Director for such a vibrant organization with dedicated and talented staff.  The success of our organization is made possible through ongoing collaboration and the commitment of our staff, volunteers, board members, our many community partners and funders; and most of all our program participants – the children, youth, parents/caregivers, and adults – who we are so privileged to work with and who inspire us every day.  
Greetings were brought on behalf of federal, provincial and municipal governments. During his greetings, MHA John Finn, congratulated the board, executive and staff for another successful year. Speaking to the youth in the room, he encouraged each to get involved in their community. "Everything I've learned, I've learned from volunteering, working in the community and working for non-profit."
In addition, Katie Walsh with Public Health Agency of Canada-St. John's office, thanked CEN & Associate organization Community Action Committee (CAC) for their contributions to the community over the past several decades. Board Director, Janice Kennedy also noted and thanked the many efforts and unwavering commitment of Bernice Hancock and the staff of CEN & Associate Organizations-CYN & CAC.
Lisa Henley, Wellness Facilitator with Western Health, delivered a 30-minute active presentation Healthy You, Healthy Com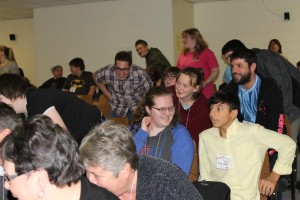 munities. During this time, she offered insight into the many programs and services offered throughout the southwestern region of our province. Highlighting, some, she brought awareness and fun back into healthy choices and healthy living. Engaging the group in fun activity such as the song, "My Body Lies Over the Sofa," enticing everyone to get physical mixed with much laughter.
During the Highlights Cafe, each participant receives a glimpse into a year with CEN & Associate Organizations-Community Youth Network and Community Action Committee during a 60 minute 3-round rotation.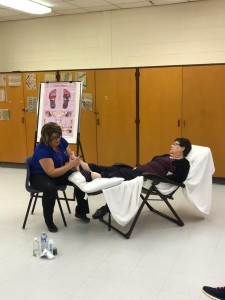 Immediately following lunch, informational and inspirational workshops were delivered by Outreach Pastor, Gerad Noble and Registered Reflexologist, Nicole LaCosta Benoit.
Gathering for feedback and review, the day ended with a memory-enticing slideshow, and a fun, fingers-crossed prize draw. As it is with each year, there are promises to return in the year to come, to meet with new friends and reconnect with ones made during events such as this.