Filling Bellies and Making Smiles-One Meal at a Time
Tables dressed in red, adorned with poinsettias while holiday musical favourites demanded a toe tap or two. Smells of turkey and busy sounds
Topping at 241 meals served in the two hour period, Dec 13th's cafe boasted the highest numbers to date since the inception of the Community Cafe in 2011.
Plate after plate was served with barely a thought and placed before someone who said a silent prayer and was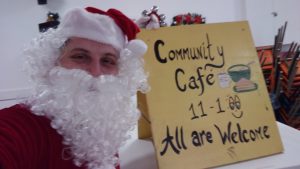 thankful for the blessing before them. With a bright smile, one patron thanked the greeter as he exited the building after filling his belly. "Thank you! You just made my Christmas..I would not have had turkey had it not been for this today!"
So to all who participated and helped in any capacity, small or large your act was not insignificant. A heartfelt thank you to the Town of Stephenville, Keyin College-Western Campus, Indian Head Coop and the College of the North Atlantic for their generous contribution..it wouldn't be the dinner without your contributions. To "Santa", the CYN Mummers, Lloyd Swyers, Child & Youth Care Worker students and our above-the-top community partners, thank you!
It has been another very successful year for the Community Cafe with the Royal Canadian Legion offering to host a cafe and trying it on for size back in November. They enjoyed it so much, that they will be doing another on Jan. 3 with the financial support of NL Housing & Homelessness Network.
As 2018 nears to an end, it is a great time to reflect back and rejoice in our successes. This year, at the Lions venue only, over 1700 meals  have been served free of charge…offering folks an opportunity, not only appease an empty belly but, to come together with other community members for an enjoyable and memorable few hours. Friendships have been formed, needed services and connections made and new partnerships molded.
To all our partners, patrons, volunteers and contributors THANK YOU! What an amazing gift we have given and received…to be a part of something that is so much bigger than ourselves and to know that one small act of kindness can bring so much joy to one's life is truly a wonder.
Happy Holidays! We look forward to continue building smiles and filling bellies in 2019!